WHAT PEOPLE ARE SAYING
Letter Dated: March 23, 2009
Dear Mr. Thompson:


Hi, my name is Bob Miller. We met at the Deerfield fishing show the first week of March. I was explaining to you that I was working with the outdoor show at Rosemount this year where I was demonstrating on the Hawg Trough tank from Wednesday to Sunday. You gave me a bottle of "Here Fishy Fishy" scent. I had the chance to use your product at the show, and I must admit the fish responded immediately.

I have been fishing in the bass waters I usually fish in for the last three weeks and the results have been fantastic! I have been fishing with friends on my boat who are using other big name scents. They have not been as successful as I have been lately. I have been catching 2 to 3 times more fish than they have.

I noticed that the other big name bait scents do not mention that they are environmentally friendly as yours does. Being E-friendly is very important for our planet.

I really feel your scent is a winner! I will be using your scent at each outing and tournament that I am in this year and will be sure to mention "Here Fishy Fishy" to everyone!

Thanks for letting me try your product. You're going to be very successful with it as it's the best!

Bob Miller

P.S. I am ready for more!
Letter Dated: June 9, 2009
Dear John::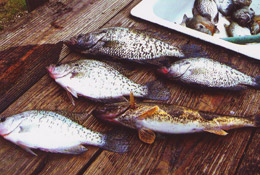 I'm writing to say thank you for letting me use "Here Fishy fishy" on not one but 3 spring fishing trips.

The first was for trout on Lake Taneycomo, Branson, MO. I was fishing with a friend, and I only used your scent when we were using the same bait. I out fished him 4 to 1 when using the scent.

The second fishing trip was to Kentucky Lake, KY. My brothers and I have fished Kentucky Lake for over 25 years for mostly crappie and are able to use many different techniques to not only get on fish but to catch them. On this trip, I only used your scent when I felt the bite had slowed or shut-off and many times on this 7 day trip your scent helped catch more fish.

The third trip was back to Kentucky Lake for blue gill and red-ear and once again when the bite had slowed down, I would apply a drop to my bait and it helped me get more bites and fish. It did not matter if I was throwing a jig, minnow or live red worm, it helped. As far as a fish attractant, your "Here Fishy Fishy" is the best I have ever used.

Thank you again for letting me use this product.

Ed Kawa
Letter Dated: August 19, 2009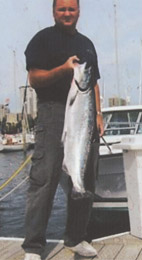 I just wanted to say your product rally works!! In the last week the fishing off of Milwaukee has really slowed down (August) with the water surface temperature dropping to the low 40's. So I put a few drops of your product on a cotton cloth and wiped both sides of the lure I had out on 10 colors of lead. I put the rod in the rod holder and was setting up another line and "wham" this 16 pound king hit. I have used it since getting a bottle and I will tell you what - it make the difference on really slow days between picking 2 or 3 fish or filling your cooler. I am going to buy more of your product - just hope no one hears about your product until after the kings finish their run and I start serious bow hunting.

Jerry Stanaszak
Letter Dated: May 5, 2010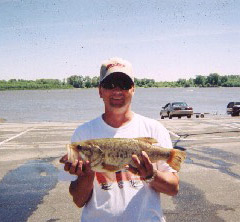 Attached is a picture of a 5 1/2 lb. largemouth bass on here fishy fishy at Lake Shelbyville.

This is a very good sent attractant for fishing. There are many more fish I caught on this product but unable to transfer pictures to my computer to send you. When i can find a data cable for my phone I can send you more. Thank you so much for making this attractant so I can catch these fish easier. I use the drops for my plastics and the spray for my spinnerbaits and top water, jigs and crankbaits.

THANK YOU

Richard Miller
I.B.F.N. Board of Directors Region 2
President I.V.B.M. Club #6060
Order Now!
Place an Order for TMHere Fishy Fishy!!

* Free hat with purchase of 4 ounce spray bottle, while supplies last!